Excalibur's traditional 9-Tray Dehydrator structure now rebuilt with a Digital 2 Time, 2 Temperature Function!

Digital Controller! The Two Time, Two Temp digital controller speeds up drying time by allowing you to start the drying process at a higher temperature to remove moisture more quickly and then lower the temperature to the desired level to preserve the freshness of your produce.

48-Hour integrated Timer! Set the drying time to the desired length and forget about it! The Dehydrator will automatically stop when the set time is complete.
Includes the Preserve it Naturally Book! A value of $24.95.
This is the New 4th Edition, updated layout.
8 1/2" x 11", 192 pages
Excalibur wrote and photographed this beautiful all-color book: This is THE book on dehydrating! Everything you wanted to know about dehydration and more can be found in this informative book.
Chapters on fruits, vegetables, meats, fish, herbs, nuts, grains, dairy products, crafts, cake decorating, potpourri, sachets, macrame beads, dough art, wreaths, raw and living foods and much more.
Recipes for raw foods, hot/cold appetizers, soups, salads, main/side dishes, sauces, beverages, desserts, snacks, trail mixes, breads, and more.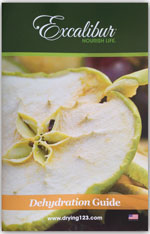 Includes the Dehydration Guide! A value of $6.95.

Handy 5 1/2" x 8 1/2" 28-page booklet is a complete guide to dehydrating. Packed with food preparation tips, reconstitution, complete 'how to' drying guide for 50 fruits and vegetables plus fruit rolls, jerky, yogurt, living foods, fruits & more. Illustrated. Soft cover.

Digital Controller - Set the dehydrator at a higher temperature for the first few hours of the drying process (set the exact period of time), then set the dehydrator at a lower temperature for the rest of the drying process (set exact period of time). The unit will automatically switch from the 1st setting to the 2nd second once the set time has completed and the unit will shut off after the second setting has completed.

Adjustable Thermostat - 95°F - 165°F - Temperature range assures a low enough level to preserve active enzymes in fruits and vegetables and a high enough level to meet safety standards for dehydrating meat for jerky.

Clear Door - No need to open your dehydrator's door to check on the drying process! Made of Clear, Polycarbonate Material

Features Excalibur's patented Parallex™ Horizontal Air Flow and Hyperwave™ Fluctuation Technology, the most efficient heat/dry combination on the market.

Includes:
9 Large Drying Trays - 15" x 15"
BPA-Free Mesh sheets
7-inch Fan
Preserve It Naturally book
Limited 10-Year Manufacturer's Warranty
Dimensions: 12-1/2"H x 17"W x 19"D
Made in USA
Excalibur Digital Food Dehydrator 3948CDB with Clear Door