Sproutman® Steve Meyerowitz, the world-renowned expert on wheatgrass and sprouts brings you a quick and easy way to grow wheatgrass at home! In just 10 days, you can have 3 large trays of fresh, juice-bar-style wheatgrass. Sproutman's Soil-Free Wheatgrass Grower works with or without soil - so you can grow this therapeutic plant conveniently at home. Sproutman's Soil-Free Wheatgrass Grower grows wheatgrass with or without soil. Either method provides you with high quality, dark green grass. So, why not save time and eliminate the hassle of dealing with dirt? Research shows grass grown without soil is nutritionally equivalent to soil-grown grass. Unlike other growers, Sproutman's Soil-Free Wheatgrass Grower doesn't take up much space. With its small footprint of just 10" x 19", it can fit virtually anywhere. Want more grass? No problem! The basic three-level unit is expandable up to 10 trays! Since each tray produces approximately 1 lb, you can have as much as 10 lbs of lush, vibrant wheatgrass in a compact, efficient space.

Features:
• No soil or plumbing required
• Expandable to make as little or as much wheatgrass as you need
• Grows at normal room temperature and light
• Each tray yields 10-14oz of wheatgrass juice
• Comes with a convenient spray bottle for easy watering
• Small footprint -- big volume

Includes 3 growing trays, 3 shelves with posts, greenhouses, lids, sprayer bottle and a complete 11-page instructional booklet.

WHAT'S IN WHEATGRASS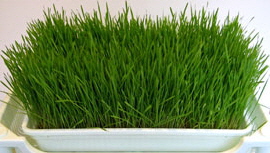 All known proteins, peptides, vitamins & minerals
Active enzymes
Growth hormones
Immune system regulators
Antioxidants for detoxification
Chlorophyll & carotenoids
Concentrated nutrition, easily assimilated

BENEFITS OF WHEATGRASS

Rebuilds the blood
Increases haemoglobin production
Heals wounds
Kills germs
Cleanses the colon
Alkalizes the blood
Neutralizes toxins
Purges the liver
Stimulates enzyme activity
Extracts heavy metals

*Please note Part E (plastic sheet) is no longer included in the package. The manufacturer now recommends using a paper towel.

Sproutman's Wheatgrass Grower SM-350